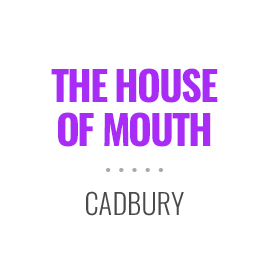 INTRODUCING GEN Z TO THE JOY OF CADBURY
When we heard there was a generation of teens that didn't know of all the joy Cadbury had to give, we knew there was something we could do.
Reach out to a younger audience and introduce them to Cadbury's five key classic countline bars.
Each of the classic bars has its own unique flavour and texture. We created an individual experience for each bar that reflected its personality, all tied together in one massive, joyous Cadbury funhouse that appealed to the kid in all of us.
EXECUTION
Our modular shipping-container funhouse went on a tour of three festivals, chosen for their younger, fun-loving audience. Guests were invited to clamber, bounce and party their way through the experience, guided by our enthusiastic hosts who were also on hand to dish out complimentary bars of the good stuff.
Having bubbly, outgoing and upbeat staff to keep the energy high throughout the day was key to the success of the activation.
The funhouse was a massive hit, with queues of excited festival goers out the door each day. The campaign also smashed its targets, with over 58K chocolate bars sampled across 8 days.