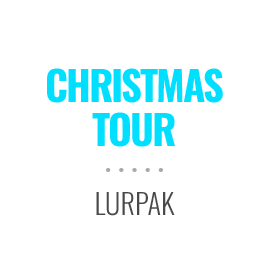 CHRISTMAS IS A TIME FOR GOOD FOOD AND GOOD FOOD DESERVES LURPAK
How we created an iconic experiential campaign that delivered on Lurpak's foodie credentials and the brand proposition CHRISTMAS DESERVES LURPAK.
Remind people that Lurpak is the UK's no.1 butter and spreadable brand for the key Christmas period.
Good food deserves Lurpak, and Christmas is all about good food. It's the busiest time of year for people to get in the kitchen and actually do some home cooking, so we wanted to show Lurpak off in all its glory – as the key ingredient in festive favourites.
We created a campaign that would showcase Lurpak's versatility and brilliant flavour by hosting live cooking and sampling events at the base of a show-stopping 8 meter Lurpak Christmas Tree.
Our unmissable 360° kitchen and crew went on tour around the UK in the run up to Christmas, delivering festive treats to the crowds and cementing Lurpak's reputation as the ultimate essential for the season.
EXECUTION
Producing over 40,000 live food samples is no mean feat, and we assembled a team of enthusiastic and knowledgable staffers in order to achieve it.
Professional chefs created theatre for our cooking demos, bringing skill and flair to attract attention and educate passers by. Supported by a lively ambassador squad handing out samples and free gifts, the Lurpak team and tree visited 5 key locations nationwide, with smaller iterations targeting supermarkets across the country.
With over 15 live experiential shopping centre days and 117 retailer activity days, the Lurpak Tree campaign exceeded all measurable KPI's.
11 staff per live day on city centre tree stand, with the core team travelling to all five nationwide locations
1,579,800* estimated footfall / OTS.
41,363 fresh food samples tasted.**
Over 250k Christmas cookies and recipe booklets distributed, 19,831 cookie cutters gifted.