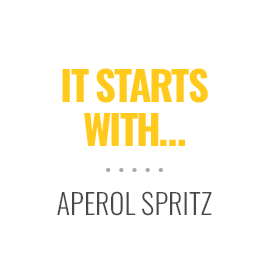 INTRODUCING A TOUCH OF ITALIAN COOL
How we took Aperol's perfect serve and changed drinking habits across London, the South East and the North West.
Position Aperol Spritz as the go-to drink at the start of your evening.
An Aperol Spritz isn't just a drink, it's a slice of Italian cool. A refreshing taste of summer that signals relaxation and indulgence. We created the 'It starts with Aperol' campaign to promote Aperol Spritz as the perfect post-work drink.
We brought this concept to life through a series of bar takeovers in order to introduce the perfect Aperol Spritz serve to a UK audience and we've been doing this since 2016.
EXECUTION
For an authentic experience, many of our pop-up bars were staffed by authentic Italians - the best way to bring a true Mediterranean flavour to the experience. Our brand ambassadors were the natural advocates needed to charm and educate customers and outlet staff alike on the art of the Aperol Spritz.
With Italian-cool design forming the backdrop, our teams were key in encouraging trial and creating a fun, memorable, brand-building experience.
RESULTS
Aperol Trial 2019:
• Trained 66 staff
• 1323 staffing days
• 447 live days
• Visited 183 bars.
Aperol Events 2019:
• Trained 66 staff
• 258 staffing days
• 51 live days
• Visited 25 events.